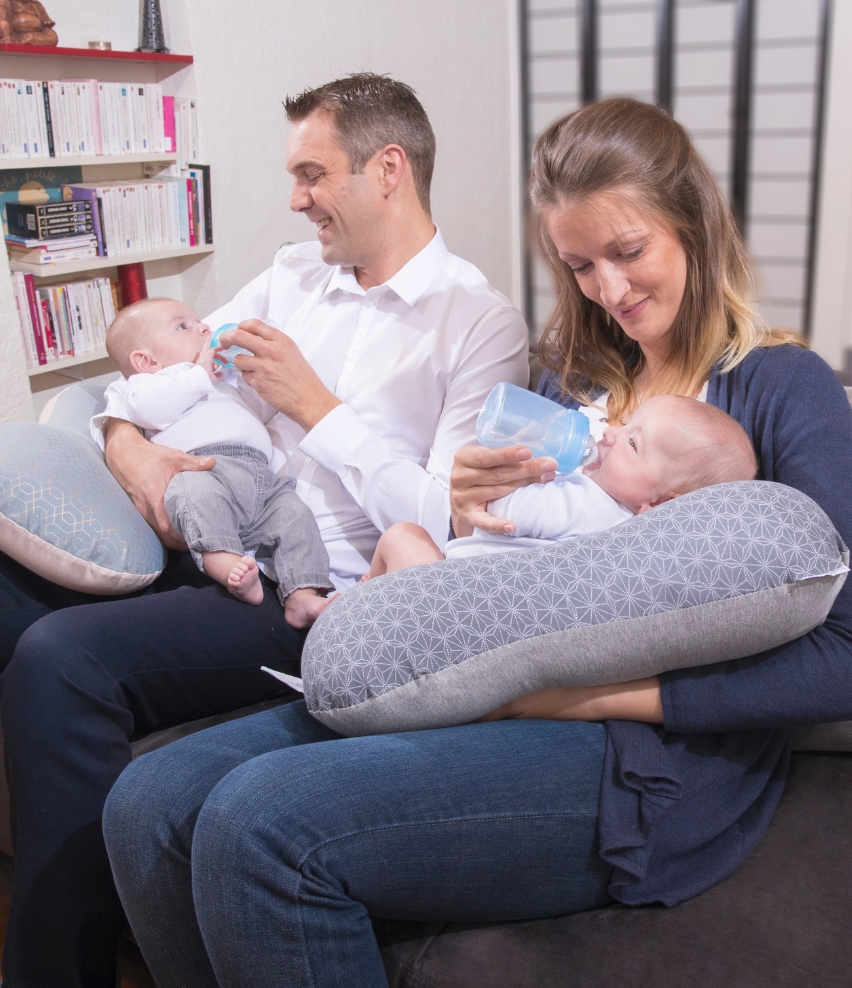 Sold outSave 30%
Mom & B On The Go Pregnancy + Infant Feeding Pillow
Ref: A062006
---
Your Ultimate Maternity Companion
Adaptable and Transportable: The Mom & B Pillow is not your ordinary maternity pillow. It's designed to be adaptable to your unique needs and easy to take with you wherever you go.
Ergonomically Perfect: Crafted in a special shape and the perfect size, this pillow provides ergonomic support that understands and caters to your body's changing needs during pregnancy and beyond.
Portable and Compact: It's a breeze to move around, thanks to its convenient carry bag. Take your comfort with you, whether it's to the living room, bedroom, or even on the go.
Fine Microbead Filling: Made from fine microbeads, this pillow offers unparalleled comfort. Sink into the softness and support that only microbeads can provide.
Multi-Position Wonder: The Mom & B Pillow is your versatile companion for nursing and bottle-feeding. It adapts to multiple positions, ensuring you and your baby are always comfortable.
Perfect Partner for Dream Belt: Use it in conjunction with the Dream Belt sleeping belt for an even more blissful night's sleep during pregnancy.
Super Soft Cotton: Wrapped in super soft cotton, this pillow pampers your skin and provides a cozy haven for you and your baby.
Eco-Friendly Certification: We're proud to say that the Mom & B Pillow is Oeko-Tex (R) certified, a testament to our commitment to environmental responsibility.
Made in Portugal: Crafted with care and precision in Portugal, this pillow embodies the quality and craftsmanship you can trust.
Cash Back Offer
Receive $10 cash back with every purchase $99 and over
Description
One small pillow, so many uses!
Pregnancy and motherhood are transformative journeys, and we believe in making them as comfortable and enjoyable as possible. Enter the Mom & B Pillow by Babymoov, the versatile maternity pillow that combines adaptability and portability in one.
Experience the comfort, convenience, and quality that Babymoov is known for. The Mom & B Pillow is your partner on the beautiful journey of motherhood. Make every moment count, and make them comfortable with the Mom & B Pillow by Babymoov.

Get yours today and elevate your maternity experience to new heights.
Outer fabric: 95% cotton, 5% elastane
Filling: 100% PS microbeads
Removable cover, machine washable at 40°C
This product is rated 4.9 of 5.0 stars.
It has received 36 reviews.
My favorite pregnancy pillow thus far!
I have gone through so many types of pillows to get comfortable early on during pregnancy. I refuse to buy the gigantic c or u shaped pillows.Tried a regular body pillow - nope. Knee contour pillow - nope again. I have a wedge pillow that's ok & I kept it, but my least favorite.The perfect combo I found is the babymoov belt paired with two of these. I started out with one for between my knees & ankles. I love that it can support both at the same time!!! However I realized my torso was twisting in my sleep & tweaking my back. So I got one to hold at night & it's perfect. Sometimes I use the second one to lay at an angle instead of my wedge pillow. I prefer this one by far!I will continue to use after pregnancy for hip pain, wish I would I've found this a long time ago!!!My only complaint the HUGE GIGANTIC TAG!!! I initially thought my first one was missing a zipper pull, but was advised by the company this was intentional which makes sense after using it. I wouldn't want a cold zipper pull against my leg at night. Customer service through the manufacturer was also SUPER fast to respond to my inquiry.But WHY in the world would you omit a zipper pull & then decide to add a gigantic tag that would either tickle your leg or be in your face all night. However I'm afraid to cut it off to be scratchy so haven't figured out a good resolve. Have thought about trying to remove & resew on my own, but don't want to mess up the jersey fabric.
Perfect for cosleeping 👍
I bought this to use as a pillow for myself. My daughter has coslept with us since 2 months old (She was super colicky for the first 4 months 😵) and is now 18 months. I was terrified that I would smother her with a regular pillow when she was wee little so this fits the bill and has been used every day!
Love it
I got this around 20 weeks into pregnancy (currently at 38 weeks) and it's been very helpful in keeping my belly & back supported. What I love most about it is it stays put no matter how much I toss and turn throughout the night. I tried the "C" shaped pillow but it took up so much bed space and I overheated. Highly recommend this pillow!!
Perfect little pregnancy pillow
Compact pregnancy pillow. Great for just lifting your knee and easing pain on your hips. It was exactly what I needed!
Very efficient and effective
Holy cow!! This pillow is awesome! Love the bead support and shape of pillow.
These items may peak your interest too