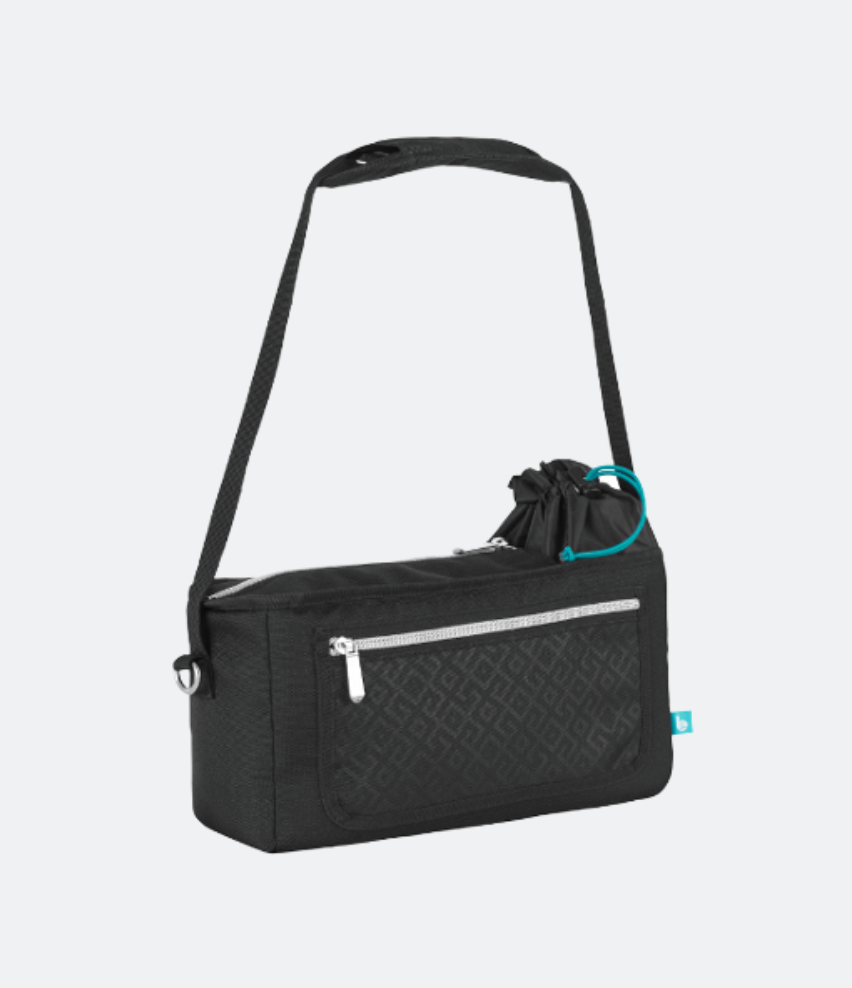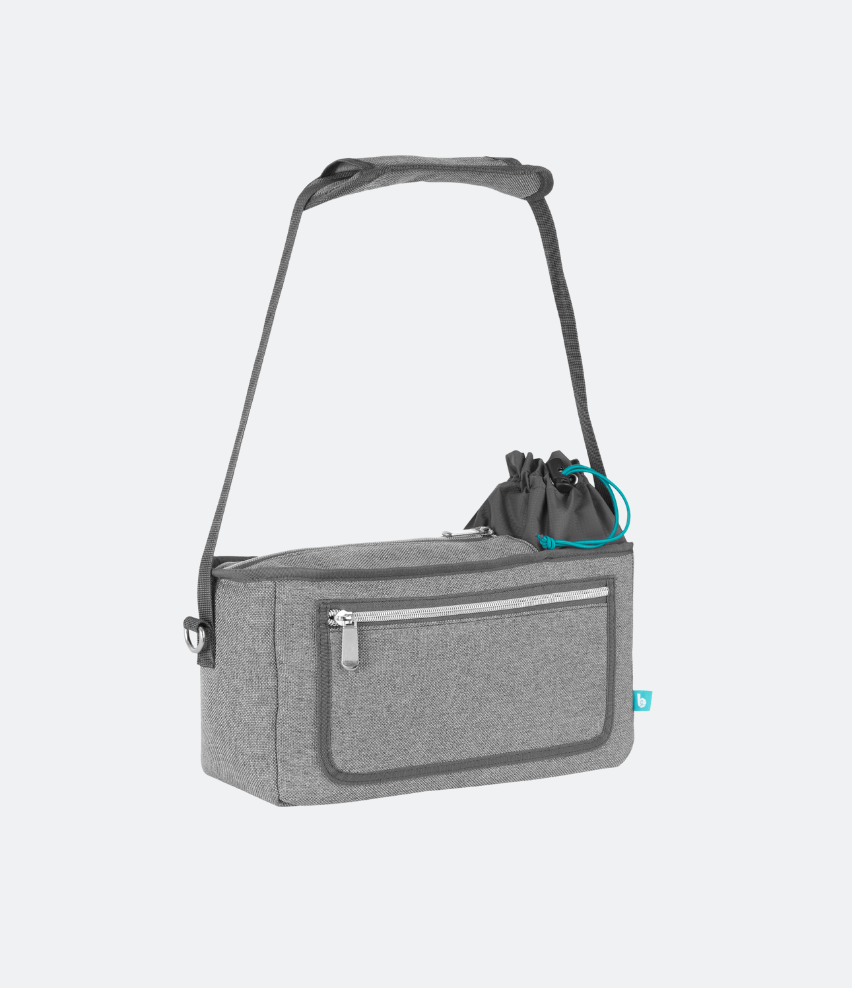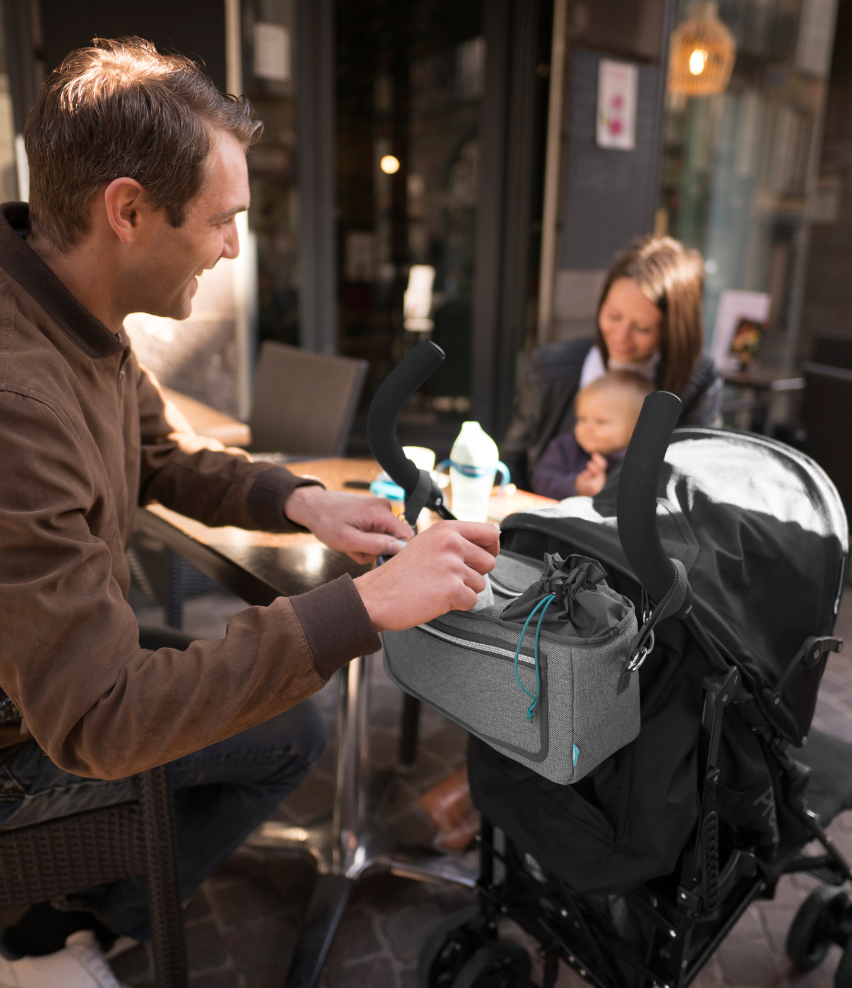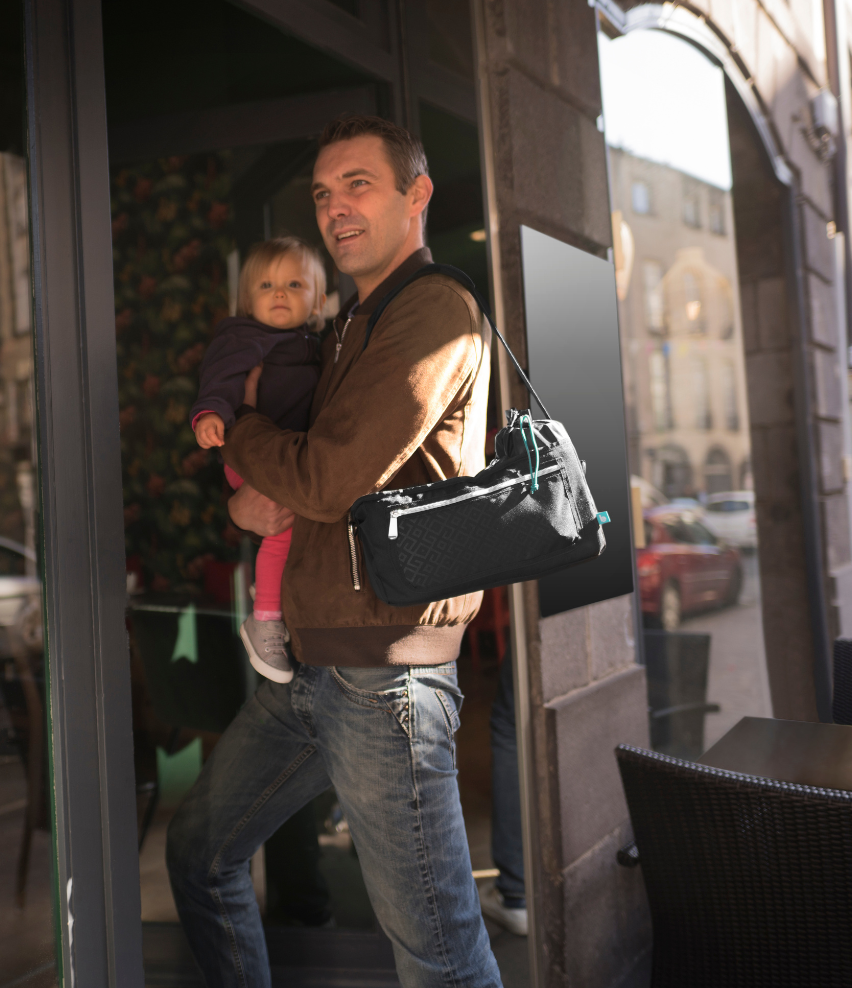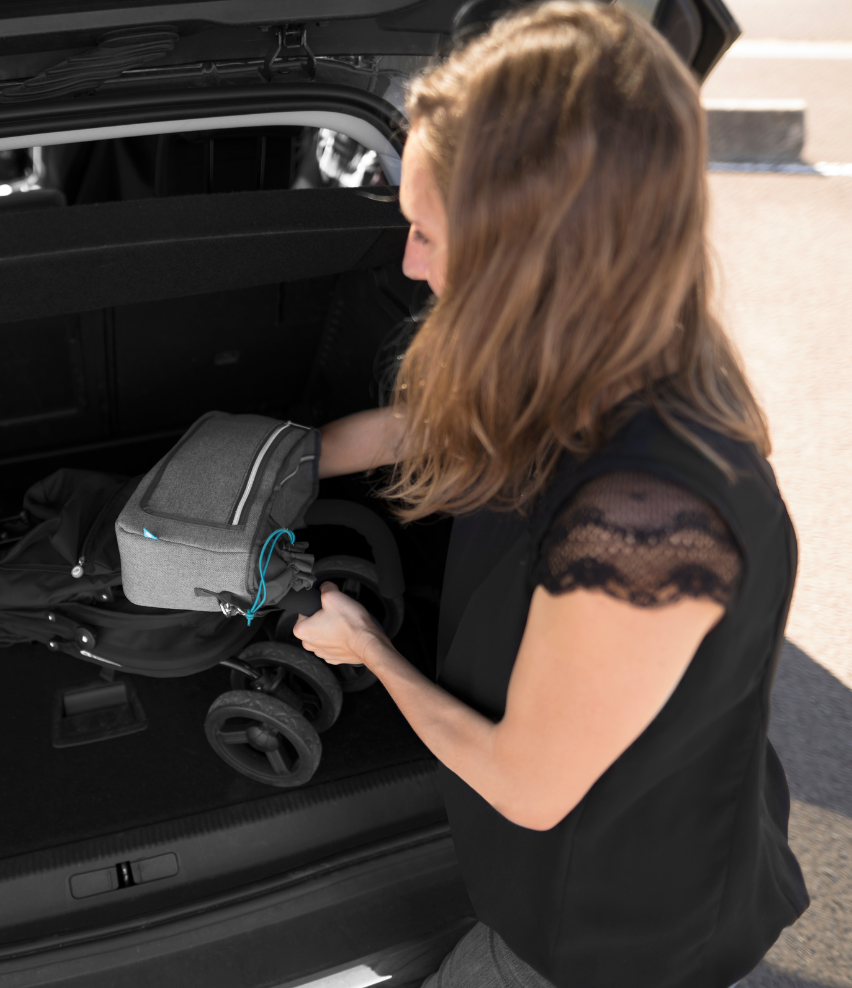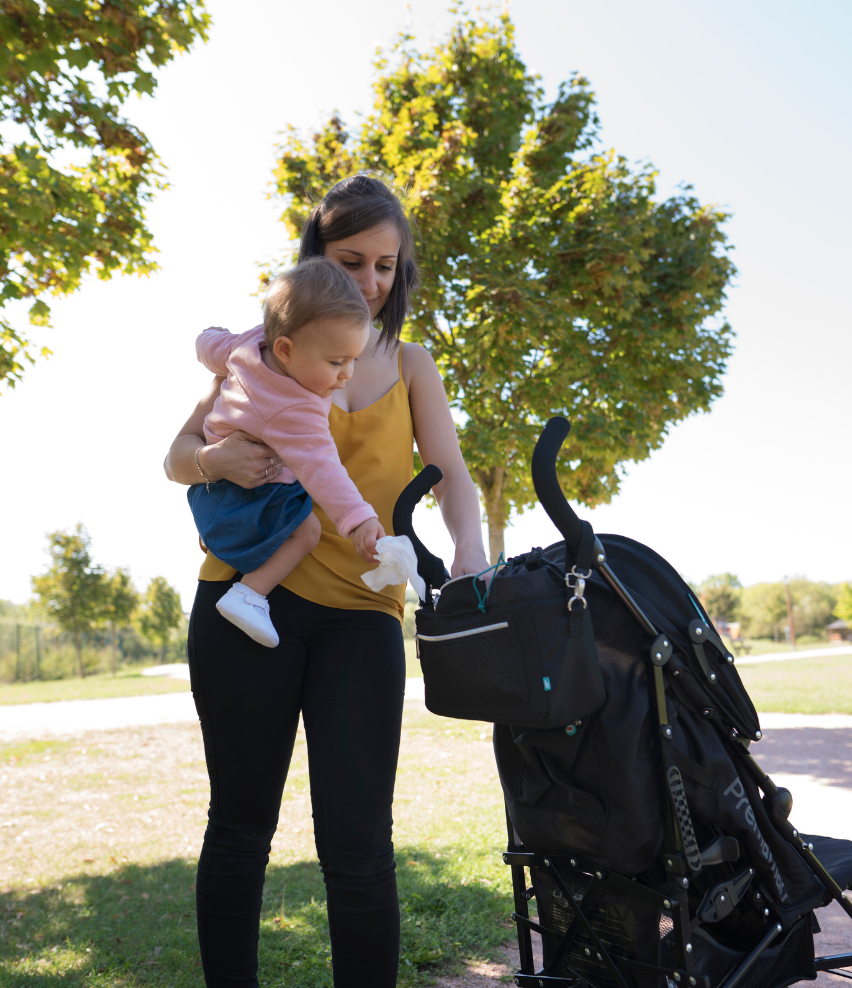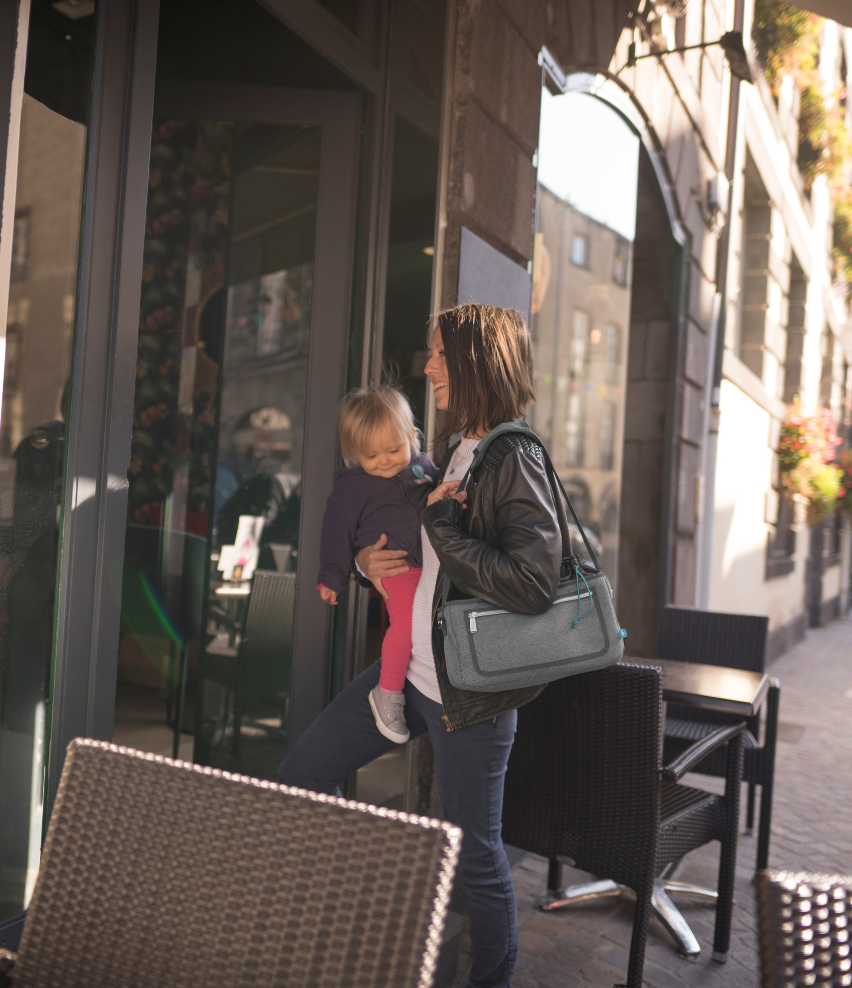 Sold outSave 70%
Stroller Bag
Ref: A045604
---
[[description_top_start]]

Universal design
Universal design for easy attachment to most pushchair/prams
Inner storage compartments for personals and external zip pocket for easy access storage.
Adjustable large insulated bottle holder.
Main central zip fastenning: Keep items secure even when folding up pram/transferring to car
Shoulder strap included for wearing. Simply unhook the stroller bag and clip the two ends together to create the strap.
[[description_top_end]]

[[description_bottom_start]]

Description

Technical features

Bag composition: 100% Polyester

Composition of insulated pouch: 100% Aluminium

Dimensions: 33 x 11.5 x 16 cm
Cash Back Offer
Receive $10 cash back with every purchase $99 and over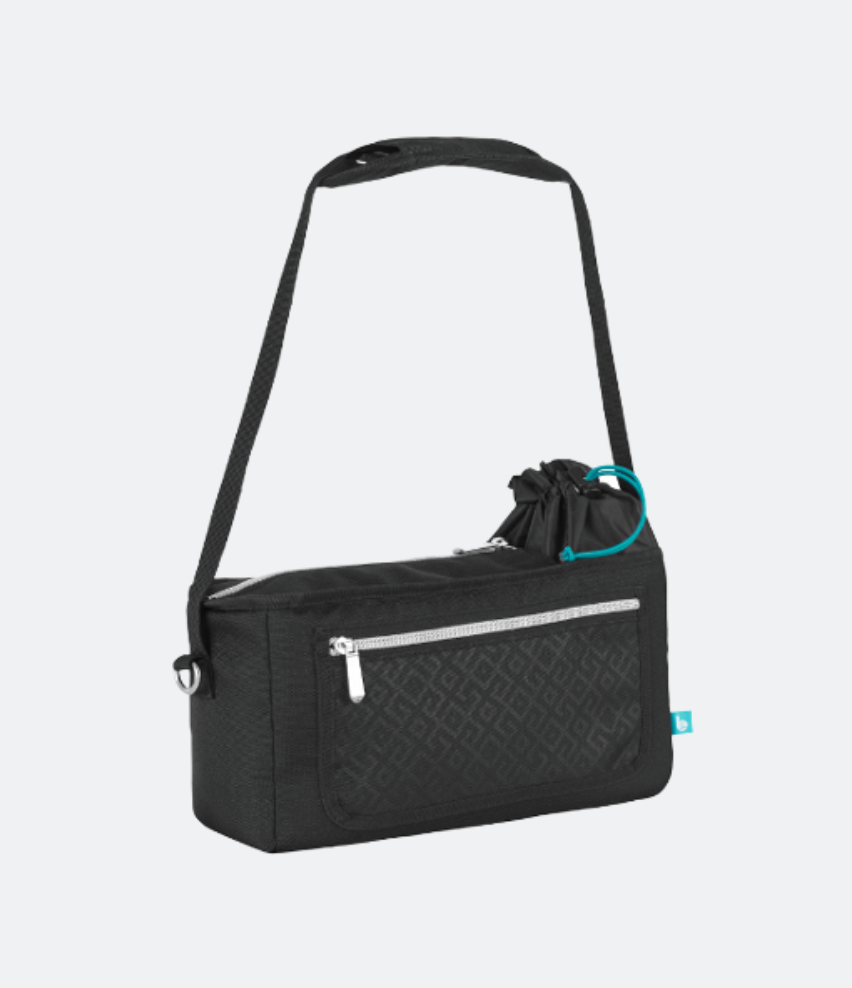 Description
The Stroller Bag truly makes each outing easier. With its universal design means it easily attaches to the handles or bar on your stroller. It has several inner storage compartments and a zip pocket on the front of the bag to hold your bank card or mobile phone. But what makes it unique is its adjustable insulated compartment. Your baby's food or your cup are easily accessible and always at the right temperature.  Really practical, the Stroller Bag has a full-length zip fastening. You can leave it attached to your stroller when you put it in your car boot, for example. The contents of your bag will stay in place.
This product is rated 4.7 of 5.0 stars.
It has received 33 reviews.
Top
Bien pratiques pour porter que le nécessaire sans avoir à prendre le gros sac à langer
Super practical
This is really practical when out and about with your little one. Lots of pockets and zips and a bottle insulator. I have to fold my pram down when I get home and the bag is annoying to put on and off, but I suspect this is the same with all of these.
So happy with this purchase. It works very well for my Uppababy Vista
I researched a while for what stroller organizer would work for my Uppababy Vista, but didn't find anything that was big enough to hold what I consider the basics most moms carry with them when picking up the kiddos from school, while holding a little ones hand (keys, phone, tissue pack). I also didn't want to fight with a constantly slipping down stroller organizer. I just wrapped each strap around the handle once over so they overlapped (see the picture) and I have never had any issues with the organizer slipping...even with my 30 oz Yeti cup in there (see the photo).I also love that this has a zipper closure. That was a must for me.I've had this organizer for 3 months and I am so glad my sister recommended it. This organizer fits the basics (keys, phone, tissues...) and my full size wallet, without being looking like a diaper bag is hanging from my stroller, in my opinion. The insulated bottle/cup holder fits my 30oz Yeti cup with ease. It does come almost right up to the handle, but it fits fine and I can still steer the stroller with either one hand or both hands. It has never bothered me. I have used this cup holder for cold coffee as well, and it hasn't tipped or caused a spill. I have not tried it with hot coffee.I do not have a single negative thing to say about this stroller organizer.I hope this helps!
Great find
This was the only product out of many that had a zipper closure. The slot for the bottle is a nice bonus. Size is big enough to fit a couple of nappies and wet wipes. Seems sturdy enough. It fits a little loosely on our Uppababy Cruz handles but we just use pram clips on either side of this bag to keep it from sliding down the handle bar.
Great.
Works great. Perfect size to store my car seat adapters when not in use. Nice quality.
These items may peak your interest too