Description

Technical features
Oeko-Tex® certified
Micro-perforated foam to ensure good ventilation
Soft, breathable, eco-friendly organic cotton mesh

100% naturally anti-bacterial: Anti-bacterial copper thread is woven into the mesh

No chemical treatment: 100% natural materials, organic and kind to sensitive newborn skin
Exclusive 'Coptech' technology: eliminates 99.9% of bacteria, reduces odors, and protects the skin from infections
The 1st naturally anti-bacterial organic headrest
Co-created with Dr. Manuel Maidenberg, the Lovenest is the world's first pediatrician-design and patented head rest specifically designed for babies. It has quickly become a favorite among parents, and is a baby registry essential.
The Lovenest's unique design has been approved by healthcare professionals and parents alike for over a decade. It is suitable from birth.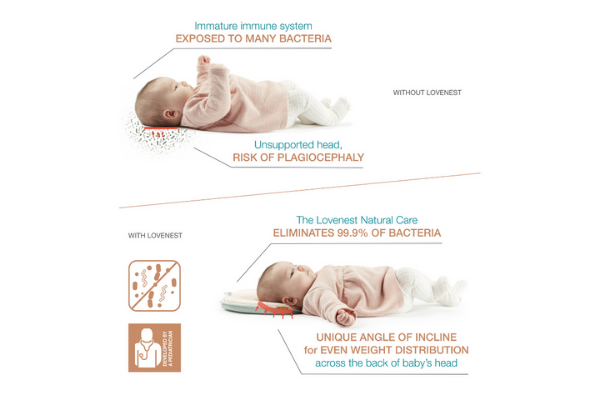 Lovenest Natural Care Technology
The copper thread, which is woven into the organic cotton mesh, eliminates 99.9% of bacteria, reduces odours, and protects the skin from infections. This exclusive patented technology is 100% natural and involves no chemical treatments atall. The Lovenest Natural Care is machine-washable on gentle cycle without damaging the anti-bacterial properties of the copper thread. Use the Lovenest Natural Care straight from birth and up to 3-4 months old or until baby is able to roll over unaided. This is not a sleep advice. Always use with supervision.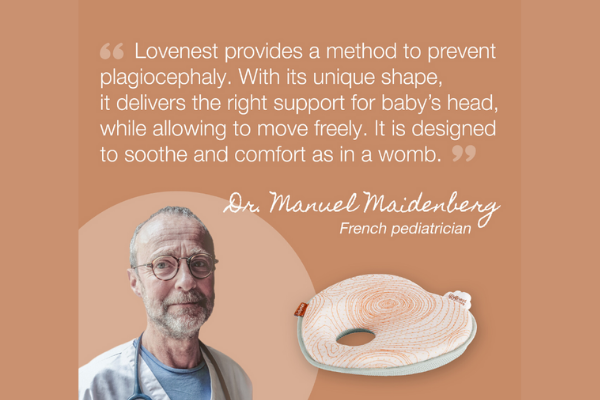 I love it!!
It is the best for your baby infant head shape. I am so happy when I have it for my baby.
Baby must have item!
We love this pillow, it's going to be a must have gift to give to others at baby showers!