Description

Technical features

Guaranteed BPA-free

LCD control screen with tactile buttons

Includes 2 HEPA filters (to be changed every 6 months)
Video
Babymoov Turbo Pure sets a new standard in sterilisation with the use of a HEPA filter.
As a parent, babymoov understand that time is of the essence and so is the safety and health of your precious newborn baby. The Turbo Pure 3in1 sterilsing, drying and purified storage machine ensures the best possible cleaning and sterilising method with the use of a HEPA filter for plastic & glass baby bottles and accessories so that parents have peace of mind straight from birth.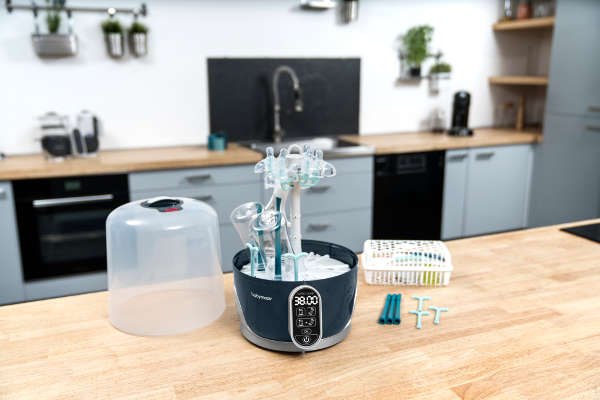 Before 6 months your baby's immune system and intestinal flora have not started to develop your little one is much more vulnerable to bacteria that can be found pretty much anywhere in the home.
The 3in1 Turbo Pure sterilises and dries plastic and glass baby bottles and accessories with a high performance HEPA filter to the core in just 38 mintues and stores them in a ultra hygenic and purified environment for up to 24 hours. Turbo Pure sterilises right to the core of baby bottles in just 8 minutes. The steam emitted by the Turbo Pure via the main tank itself and through the removable steam arms is at 95°C to eliminate even the most resistant bacteria (99%), and destroys stubborn odours and calcium build-ups from milk. The steam arms are removable, so that you can customise the internal space to fit more of your bottles and accessories in. You can add up to 6 baby bottles as well as a breast pump, teats and other accessories suitable for sterilising.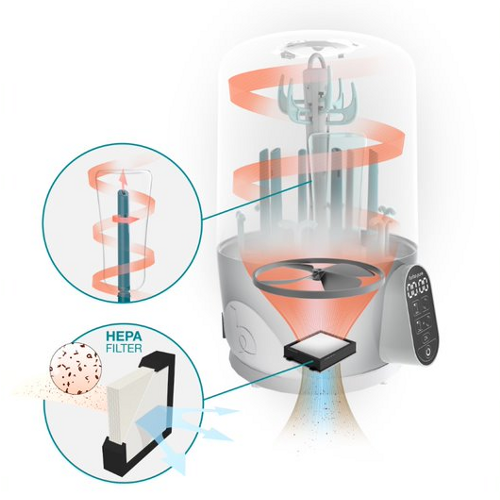 Hygenic Pure Drying Function
Turbo Pure is equipped with a unique 'Pure Drying' function (30, 45 or 60 mins) Hot air is forced deep into the bottle is purified from bacteria, dust mites and other allergens thanks to the addition of an HEPA filter. This is the safest, most hygienic way to dry your baby bottles, teats and other accessories after sterilisation. Any humidity and pollutants contained in the air are eliminated (99%). Your baby bottles are ready to use and retain all the benefits of sterilisation. The HEPA filter can be easily changed every 6 months and Turbo Pure comes with a spare filter.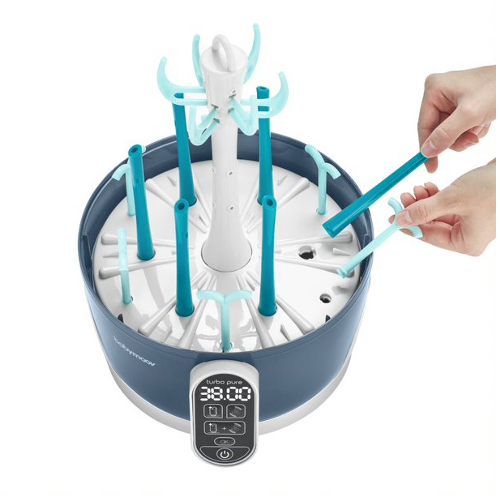 Why use an HEPA filter?
Hot air forced deep into bottles paired with an HEPA filter, eliminates at an extremely high rate of efficiency at least 99.97% of dust, pollen, mold, bacteria, and any airborne contaminants with a size of 0.3 microns.
Bactéries
Ne sèche pas complètement.
Je suis une hygiène très stricte afin de faire des dons de lait, et lorsque je stérilise mon tire lait avec cet objet, mon don n'est pas admis car il y a trop de bactéries.
Si je fais la même routine d'hygiène mais en faisant bouillir mon tire lait, mon don est admis.
Je ne recommande pas.
Make sterilize bottles easy
I had been looking for bottle sterilizer with drying function for a long time. And I m happy that we found the babymoov turbo pure sterilizer and dryer! It holds 6 bottles, which is the amount that my baby boy use everyday. It's easy to use, the panel on the sterilizer is really straight forward. The only thing I don't like about is the nipple holder and there's not much space left for the cap. Overall we like the sterilizer!
Neat!
This is a very neat product! While it definitely takes some extra space, it was a great add to the regimen of ensuring that my son's bottles are sterile. Before this we were boiling bottles and accessories weekly. Now we don't have to worry about it anymore!
Works well
I've been using the babymoov Turbo Pure for about 2 weeks. The product works well but it just takes too long. The sterilization process is 8 minutes which isn't a terribly long time but I can do it in the microwave at half of that. The drying times are ridiculously long. They are 43, 60 and 30 minutes depending on what type of bottles you have. The instructions for which bottles was not very clear in the manual. The product works but for a busy mom I just don't have the time to mess with it.
Simple Sterilizing!
The Babymoov Turbo Pure Sterilizer and Dryer is a wonderful invention. It works at the push of a button. It only takes a matter of minutes to run a cycle. It gives me peace of mind to have the baby's bottles, pacifiers and teething rings all sterilized so easily! I will definitely recommend this to all my mommy friends!