Description

Technical features

Dimensions (open) : 100 x 100 x 80 cm

Dimensions (folded) : 60 cm
Weight : 0,77 kg.
Composition : 100% Polyester
Video
Summer's finally arrived!
Before the age of one, babies do not produce enough melanin to protect them from the sun's UV rays. So when you go out, it's essential to protect your little one with high protection sun cream, sunglasses, a hat, an anti-UV play area... So your baby can explore the world around them in complete safety, whether on the beach, in the park or even in the mountains. The Marinière anti-UV play area protects your baby not only from the sun's rays but also from wind and sand. With its high protection (SPF 50+), it blocks up to 99% of harmful rays (UVA and UVB).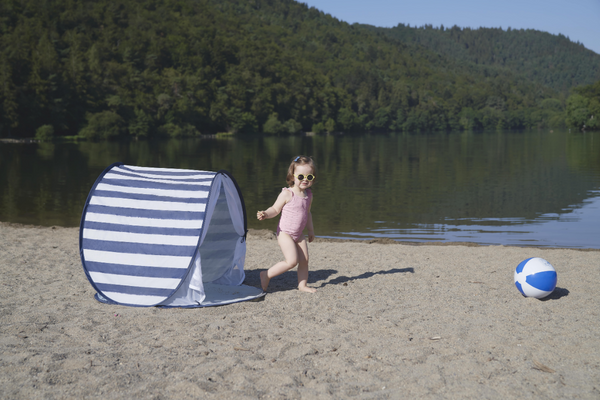 High protection
The tent is easy to assemble and store away thanks to its pop-up system, and is big enough for 2 children. This play area has more than one trick up its sleeve. It has a large opening at the front and two windows with flaps at the back for optimal ventilation. The mosquito net can be zipped shut by an adult and its fine mesh protects your baby from insects during the summer. The ground surface is water-repellent in case of any little accidents.
This beach tent comes with 3 pegs for greater stability on the ground. It is light (<1 kg) and folds away easily in its carry bag.
Not intended for infant sleep.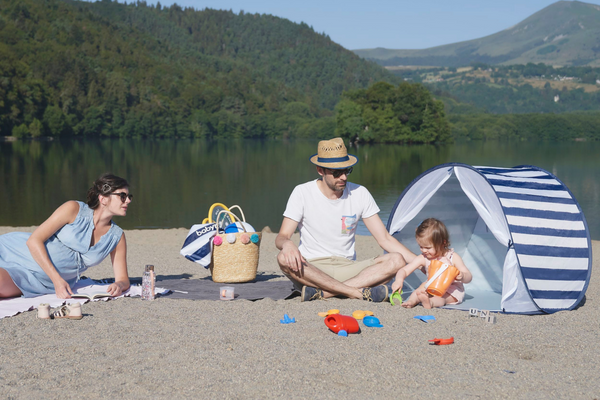 Pops up easily, difficult to fold back
It was super easy to pop up. Fit two under two easy with several toys and a tote with towels. The instructions for folding it back are difficult to understand. We ended up watching a video (several times). Once we got that figured out, it easily fit back in the bag. It was great at the beach, and we've used it on our deck as well. We used our beach tote to weigh it down, otherwise the wind could've been an issue.
Be careful, the frame bends beyond repair
Love this tent, aside from the fact that it's a little tough to fold up and put away. Be careful bc the frame bends easily beyond repair! It's spacious for our baby and is great to travel with!
Great shade for your little babes
Super easy to set up and fold up! Used it on two vacations. When folded up, it doesn't take up any space in our trunk. I plan to use this next summer when my youngest is a little older for a little nap tent when we are outside so I can get some more use out of it!
Bigger than it seems
Trickery are first to fold up but once you use your brain it's super easy. It was very sturdy and very gif table! Great for years to come.
Nice elegant tent for babies
Easy pop up and easy to fold. 4 month old had a wonderful time napping and being fed at the beach.