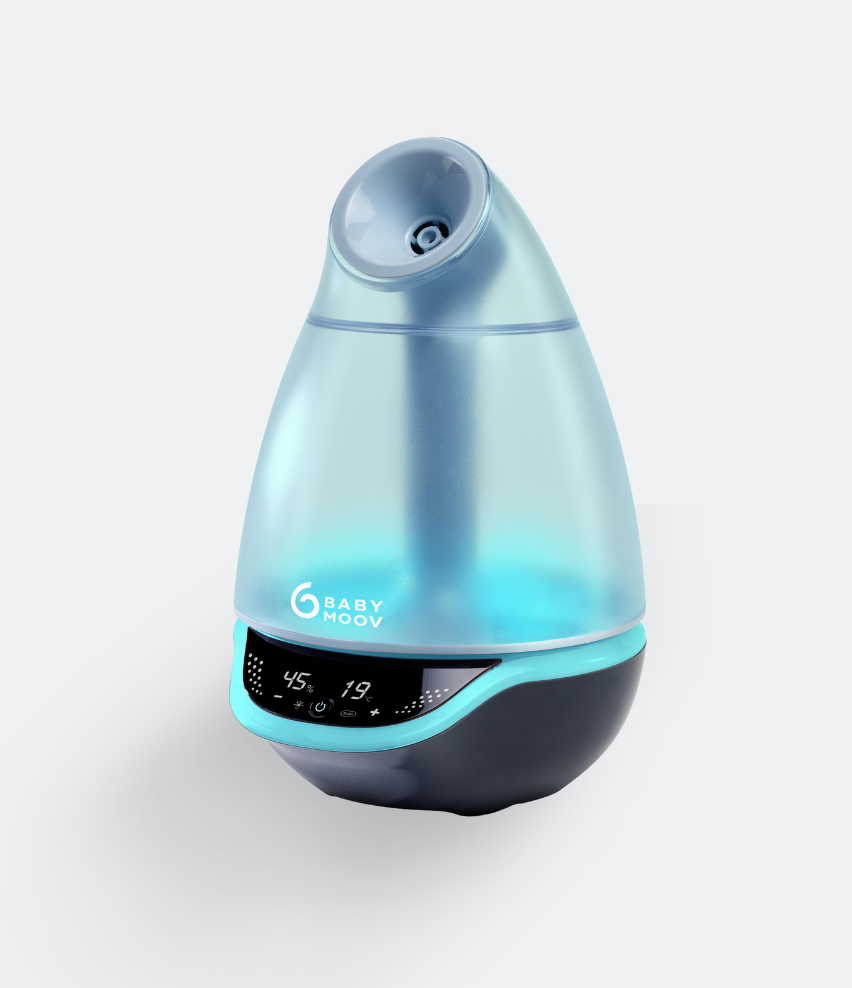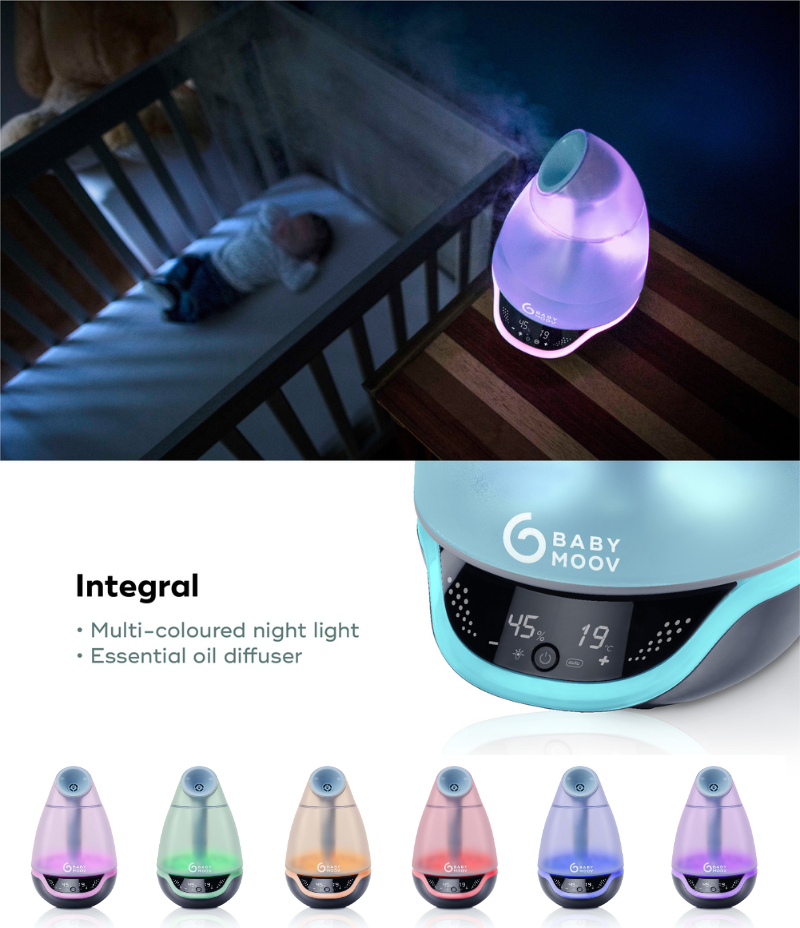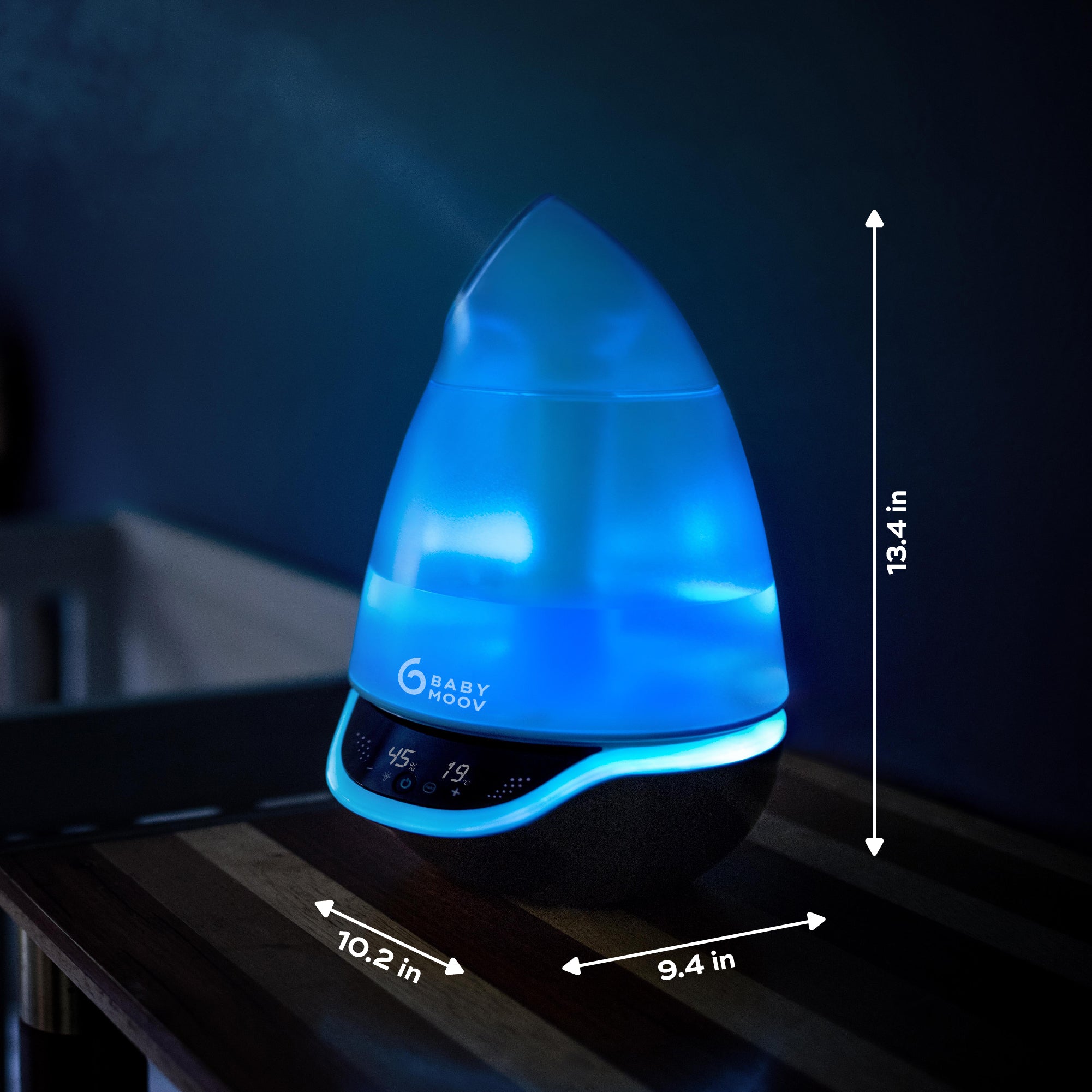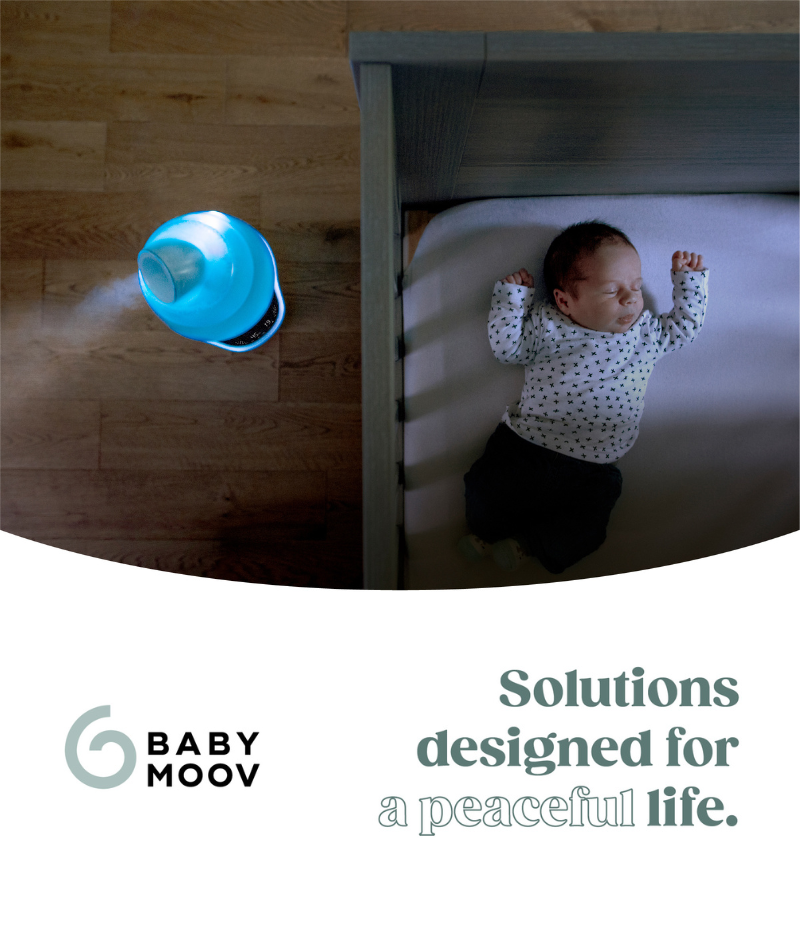 Sold outSave
Hygro(+) Humidifier
Ref: A047014
---
Guarantee Healthy Air in Your Babies Surroundings
Experience the ultimate in baby care with our award-winning automatic cool mist humidifier. The Babymoov Hygro(+) is thoughtfully designed to create the ideal environment for your little one.
Cold mist technology humidifier ideal for crating a healthy environment for your baby
Easily adjust the humidity level in your baby's room: manual or automatic adjustment at the desired time
Optimal battery life for continuous streaming from bed time to wake up time (up to 22 hours of battery life!)
Essential oil diffuser featuring 360 degree adjustable steam
Quiet ultrasonic technology
Cash Back Offer
Receive $10 cash back with every purchase $99 and over
Free Delivery on Orders $99+
Free Returns within 30 Days
Lifetime Warranty: This product is backed by Babymoov's Lifetime Warranty and has been tested to meet U.S. and European Baby Safety Standards.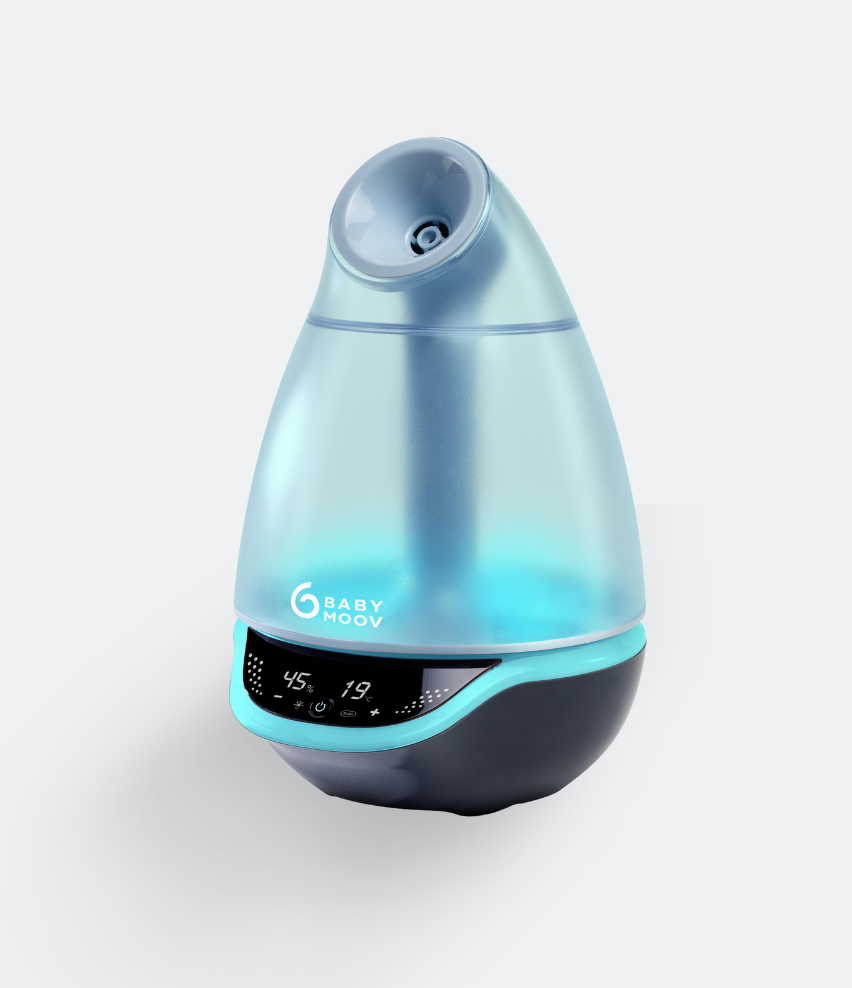 Description
Elevate Your Baby's Comfort with the Hygro(+) Humidifier
Experience the ultimate in baby care with our award-winning automatic humidifier. The Babymoov Hygro(+) is thoughtfully designed to create the ideal environment for your little one.
Maintains the perfect humidity level: Our advanced technology ensures a safe and recommended humidity range of 40-50% to promote your baby's well-being.
Combat respiratory issues: The Hygro(+) features cool mist technology, helping to alleviate symptoms of congestion, asthma, eczema, winter infections, and allergies.
Calming ambiance: Enjoy the color-changing nightlight with 7 soothing color options, perfect for creating a peaceful atmosphere in your baby's room.
Aromatherapy support: Our built-in essential oil diffuser allows you to infuse your baby's space with delightful scents to enhance relaxation.
User-friendly interface: The sleek backlit touchscreen interface is designed for nighttime convenience, making it easy to adjust settings without disturbing your baby's sleep.
Whisper-quiet operation: With a noise level as low as 25 decibels, the Hygro(+) ensures your baby enjoys uninterrupted slumber.
26.8 x 24.2 x 35 cm - 14 x 11 x 9.4in
AC 220-240 V - 50 60 HZ
Operates on mains (plug included)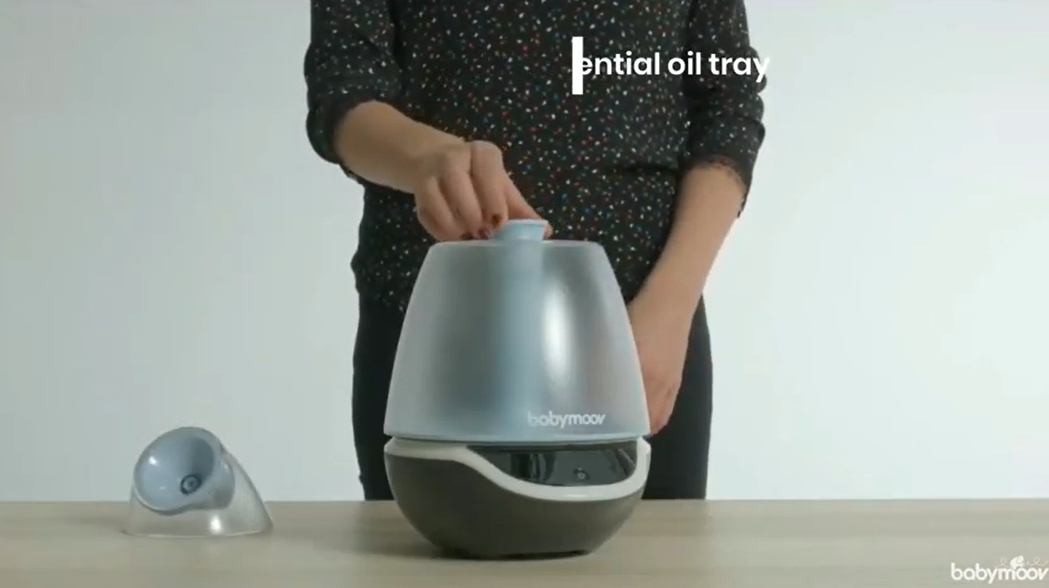 This product is rated 4.5 of 5.0 stars.
It has received 83 reviews.
Worst Product Out There
The reason I began using this product was to relieve some of my sons cold like symptoms. The last thing you want to do as a mom is struggle for half an hour as your kid is crying in the background. First the instructions are terrible. It says close the valve tightly and even when you use all your might it's still doesn't lock properly. Water will leak out everywhere. Ultimately, I gave up because it was such a cheap product. Turn on the shower or use another company.
Not as easy to clean
I do like so many of the features but I didn't realize that I possibly have hard water at my house and it's affected my machine and because it has so many small areas, it's impossible to each certain parts and scrub it clean. Soaking in bleach water just wasn't enough. Would be hesitant to recommend it.
sent to the wrong person
Hi. I'm not Robyn, I'm Shanna, who ordered it. The humidifier was sent to me, instead of my niece, Robyn, after I had sent an e-mail specifically to clarify. Please refer to the e-mail I sent to Babymoov yesterday, about this. Now, I have to ship it all the way from Washington to New York. Thanks so much, for taking time to check into it. Wishing you a great rest of the week. Shanna
Product good but customer service lacking
I do love the product and the fact that you can adjust the mist and the auto on and off for the humidity for the room.
However, I am unsure to recommend due to the fact the customer service is not great. The valve cap the spring seems to have broken after few months of use and I've emailed Babymoov multiple times and have not heard a response in months. All I wanted was a chance to purchase the cap again and how I would go about doing that. It seems once you buy the product any after concerns for the product is no longer their problem.
Hi Siu,
We are so sorry to hear that you have yet to hear from a member from our team. We've checked our records and unfortunately have no contact information or communication under your name. We are currently out of stock for replacement caps, but this should be back in stock and available for purchase by the end of May. Should you wish to speak with a member of our customer service team, please e-mail hello@babymoov.com .
Thank you!
Works well after returning duds.
I had to return two of these before I got one that works. The last one received works very well. It is somewhat difficult to understand how to adjust it.
Q: How should I clean the humidifier?

A: You should clean your humidifier weekly. Leave the Hygro + unplugged while cleaning. To clean the tank, pour 1 cup of water and 1 cup of bleach in the tank, shake it, rinse, and let it air dry). To clean the base, pour 1 cup of water + 1 cup of white vinegar in the base. Let it sit for 20 minutes. Rinse it and air dry.
Q: Is there a standby mode on the screen?

A: Yes, the standby mode starts after 30 seconds of inactivity. If you briefly press on any button, the screen will turn back on
Q: Can I use the night light without the humidifier?

A: Yes, you may. Just make sure there is no water in the tank.
Q: How can I set up/pick the colors? How can I turn them off?

A: To pick one color: Press the color button until you find the color you want. For the rainbow option: Press the night light button for 5 seconds. To turn it off: Press the night light button 8 times.
These items may peak your interest too