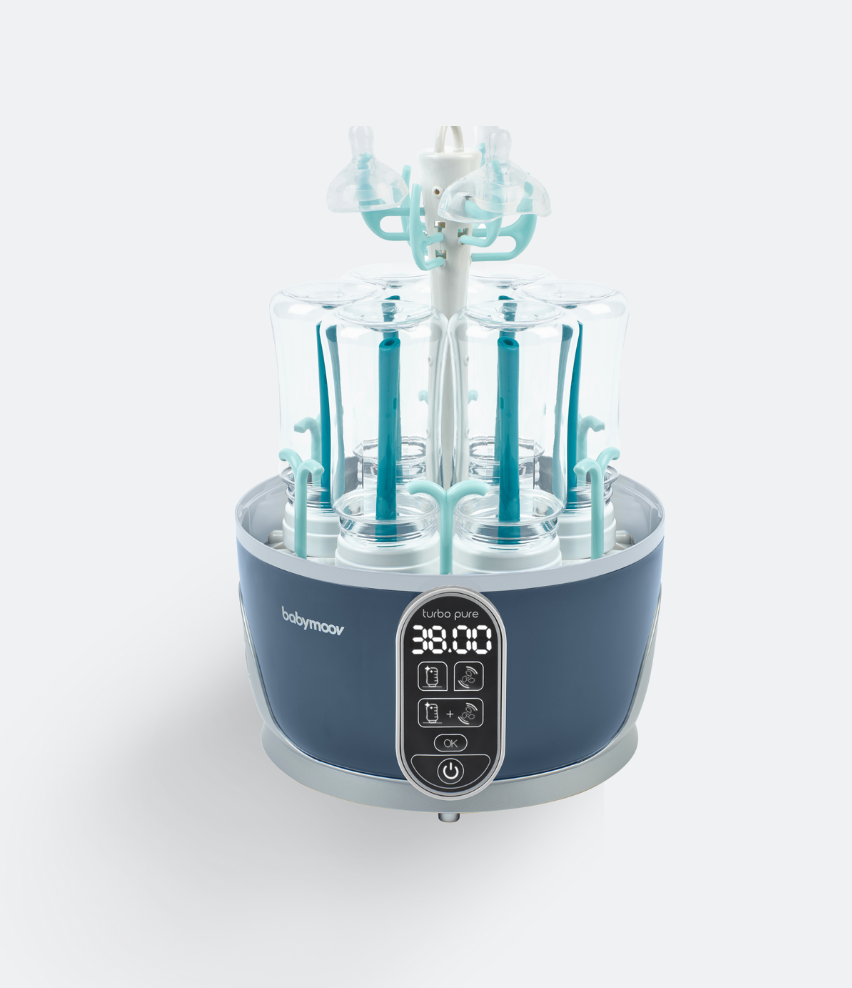 Sold outSave 0%
Turbo Pure 3-in-1 Sterilizer
Ref: A003107
---
Babymoov Turbo Pure Bottle Sterilizer: Your Ultimate 3in1 Solution!
Say goodbye to the hassle of sterilizing and drying baby bottles with multiple steps. Introducing the Babymoov Turbo Pure Bottle Sterilizer & Dryer - the all-in-one solution designed to make your life as a parent easier and more convenient.
Efficient Sterilization & Drying: Our Turbo Pure Bottle Sterilizer offers a 3in1 solution, allowing you to sterilize and dry your baby bottles in a single 38-minute automated cycle. It's the perfect time-saving companion for busy parents.
Pure Drying Function: With a built-in HEPA filter, this sterilizer ensures a purified environment for your baby's bottles. It goes beyond simple drying, eliminating 99.7% of airborne pollutants, dust mites, allergens, viruses, and mold. Your baby's bottles will be clean and safe every time.
Universal Compatibility: Whether you use glass or plastic bottles and accessories, our Turbo Pure Sterilizer is designed to accommodate them all. It's a versatile solution for all your baby's feeding needs.
Quick Sterilize-Only Mode: Need a fast solution? Activate the quick sterilize-only mode, and your bottles will be sterilized in just 8 minutes. Perfect for those moments when time is of the essence.
Practical Storage: Our sterilizer doesn't stop at sterilization and drying. It also offers a practical bottle storage feature within a purified environment, ensuring your baby's bottles remain clean and ready for use for up to 24 hours.
Limescale Build-Up Alert: We've included a limescale build-up alert to help you maintain the sterilizer in optimal condition. It's an essential feature that ensures consistent performance over time.
Automatic Shut-Off: Safety is paramount, and the Turbo Pure Sterilizer features an automatic shut-off function, giving you peace of mind while it works its magic.
Cash Back Offer
Receive $10 cash back with every purchase $99 and over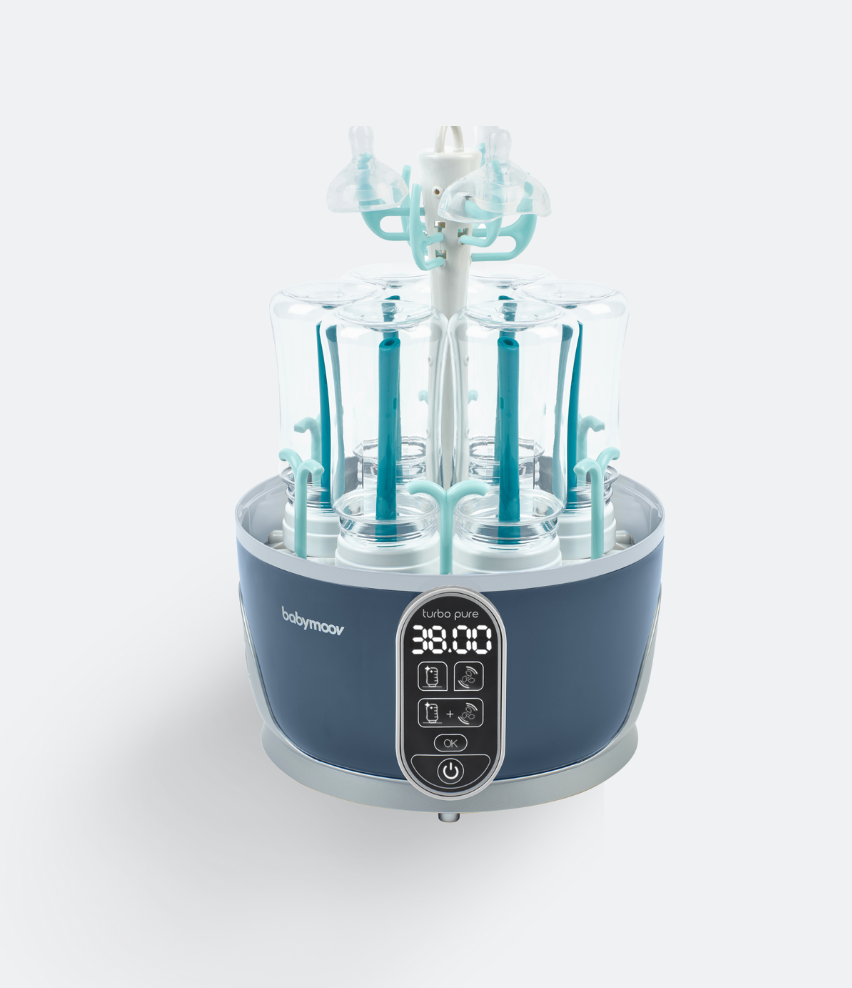 Description
Our sterilizer eliminates 99% of bacteria, odors and pollutants!
With the Babymoov Turbo Pure Bottle Sterilizer, you can simplify your baby's feeding routine and ensure the highest level of hygiene. It's the ultimate companion for modern parents who want the best for their little ones.
- Sterilizes up to 99% of bacteria, odours and calcium build-ups
- Dries and purifies to protect bottles from humidity and eliminate 99% of airborne pollutants such as dust mites, allergens, certain viruses and mould
- Programmable "purifying and drying" function- 30, 45, or 60 minutes
- Universal detachable nozzles to fit all types of baby bottles, breast pump accessories, pacifiers, toys and more!
- LCD control touch screen
Polypropylene, ABS, BPA Free
All components, except the electric base are dishwasher safe
40 x 26 x 26cm - 15.7 x 10.2 x 10.2in
Warmer- 600W
Drying- 100W
Operates on mains (plug included)
Includes 2 HEPA filters (to be changed every 6 months)
This product is rated 4.5 of 5.0 stars.
It has received 60 reviews.
We use kendamil formula that needs to be sterilized at 70 Celsius and this makes it so easy to do that!! Best baby product we currently have!! Only con that it doesn't dispense exactly 2 ounces as stated on packaging still worth it though!!
I exclusively pump so this is a necessary item. It sterilizes and dries perfectly. We put it under the range to vent the steam away. Perfect for pump parts and medela bottles. I'm not as much of a fan of the smaller prongs shape, wish it was just a little like the taller prongs to be able to fit medela bottles as well, it only fits wide neck bottles (like Philip Avent baby bottles) but the space is limited, so you do have to be good at tetris. I like the top hooks, with a bit of creativity it helps maximise space (I hook my portable pumps cup on them as well as bottle nipples, bottle rings, popsicle molds and pacifiers).It is easy to clean since you can easily take it apart.
Bactéries
Ne sèche pas complètement.
Je suis une hygiène très stricte afin de faire des dons de lait, et lorsque je stérilise mon tire lait avec cet objet, mon don n'est pas admis car il y a trop de bactéries.
Si je fais la même routine d'hygiène mais en faisant bouillir mon tire lait, mon don est admis.
Je ne recommande pas.
Easy to replace the filter
It's been around 3 months we've been using it daily and didn't have an issue yet. We read some of the reviews saying it stopped drying after 5 months, we'll be updating if it does. It doesn't fully dry the bottles but it's good enough.
Q: The steaming stops before the end of the cycle. How can I fix this?

A: Here are a few tips to solve your issue: Try descaling the steaming unit. - Pour 1 cup of water with1 cup of the white vinegar in the tank. - Let it sit for 2 hours (unplugged). - Rinse and dry - Press the 'OK' button for 10 seconds - Repeat once every other week If you have not descaled your Duo meal Station in a while, let it sit with the water and vinegar mixture overnight. The red light which alerts you to descale the unit will not go off on its own.. You must press the 'OK' button for 5 seconds
Q: How much water should I put and where?

A: You should completely fill in the tank with 90ml (3oz or 6 tablespoons) of water. The tank is located underneath the bottle storage space. Sterilization takes 8 minutes in the Turbo Pure Sterilizer.
Q: Can the Turbo Pure Sterilizer overheat?

A: The Turbo Pure should not overheat, but in the case that it does, please reach out to us and we will be happy to solve the issue.
Q: "err2" appears on the screen. How can I fix this?

A: Not to worry! The base got disconnected. You should replace the base to fix the issue.
Q: My Turbo Pure no longer dries and/or bottles come out wet after a full cycle. What should I do?

A: This issue is most likely occurring due to too much water in the tank. There should be a maximum of 1/2 a cup of water in the tank. In order for the Turbo Pure Sterilizer to dry at its best, it must be descaled once a week. Please refer to the descaling instructions.
These items may peak your interest too