Description

Technical features

Exterior: 95% cotton, 5% elastane
Interior: 100% polyurethane
Video
Dream Belt
Dream Belt has been co-created with new mums and midwives to improve sleep comfort during pregnancy. (usually from as early as week 20 +)
Super soft memory foam on either side of Dream Belt fills the gap between hip and mattress, enabling comfortable side-sleeping (recommended to be the safest sleep position during pregnancy by experts at www.tommys.org)
TARGETED PREGNANCY SOLUTIONS: WHY WE CREATED DREAM BELT!
As part of our design process, a group of pregnant women visited Babymoov for a 'marathon day', during which 3 prototypes were created. The goal of our marathon day is to understand the day to day lives of our target audience, to learn firsthand any obstacles they face as pregnancy progresses and create focused, helpful solutions that really work! We also had an expert team of midwives join our marathon day for advice and perspective on the same topic.
Among the different pregnancy problems identified - such as anxiety, back pain, the look - discomfort during sleep was the main concern shared by mums and mums-to-be. Taking all priorities and requirements into account, Babymoov went on to create the Dream Belt which was and still is unique to the market. To provide the best solution, Babymoov worked closely with midwives that have influenced, supported and validated the Dream Belt at each stage of the product development.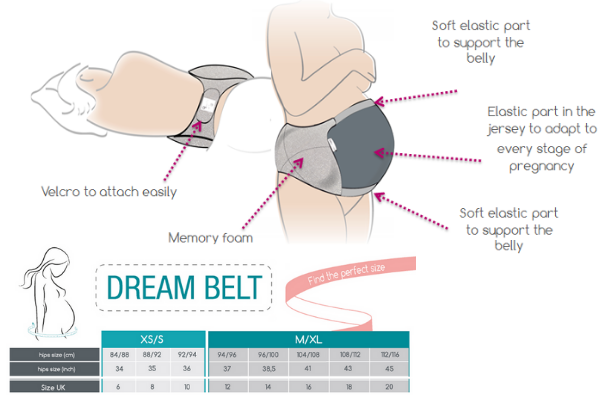 Great product but didn't work for me, sadly!!
The only reason I'm not giving this product 5 stars is because my belly wasn't large enough at the time for it to fit comfortably. The blocks were too close to my back instead of around the sides of my stomach.I feel like if I was further along and my stomach was larger I would have used this product constantly!Would've been a great alternative to a large pregnancy body pillow. I bought this because I have diastais recti and sleeping has become very uncomfortable but I do not like to sleep with the large pregnant pillow because I like to turn over at night.It is made out of great material, stretchy, and lightweight. I'm sad that it didn't work out for me.
You'll look like a penguin, but sleep like a koala.
You'll look like a penguin, but sleep like a koala. Seriously tho, the best thing invented for pregnant women. I couldn't sleep until I found this contraption.
Soft and supportive for my bump
Love this belt 🙌🏽 I have a pregnancy U-shape pillow but there's no room in my bed for my boyfriend(so he usually sleeps on the couch). I recently purchased this and I've ditched the U-shape pillow for this and now my boo and I can finally snuggle and I can sleep comfortably with the support of this belt
Good quality
I like the material, but i am not using it much!!
Babymoov Belt
This belt is amazing! If you feel like you need support on either side of your belly you need this! If you feel like ur belly is falling to the sides or the long sausage pregnancy pillow is too high you need this!
Will definitely be Future gifts for moms to be