Description

Technical features

Composition: BPA-free Tritan, polypropylene
Care: Baskets, bowls and accessories are dishwasher-safe
Wattage: Heating 230V / 500W and Blending: 230V / 3 speeds
Power supply: Mains operated (adaptor supplied)
Product dimensions: 39,5 x 25 36,5 cm
For all stages of your child's
The Nutribaby(+) XL baby food processor is ideal for all stages of your child's development, from bottle-feeding to weaning and beyond. The multi-purpose Nutribaby(+) XL has 6 pre-programmed functions (1 button = 1 function): steam cooking, blending, defrosting, heating baby food jars, sterilising and heating baby bottles. This baby food processor also features a central touchscreen console and a built-in timer (audible and visual alarm, automatic cut-off).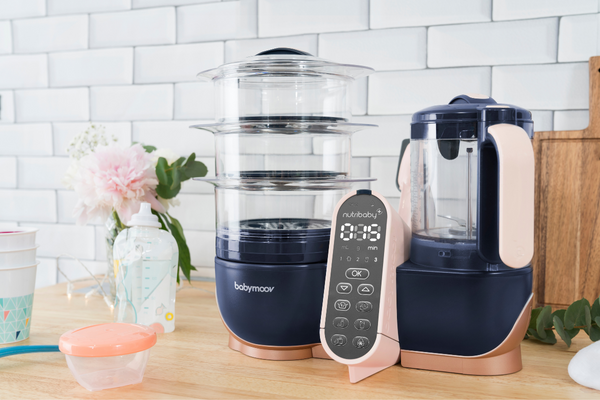 14 meals in a single cycle!
Its very large 2,900 ml capacity (2,200 ml for cooking and 700 ml for blending) means you can prepare up to 14 meals in a single cycle! This multi-purpose food processor has a cooking unit and a blending unit which can function simultaneously, saving you lots of time when preparing all the meals for the week!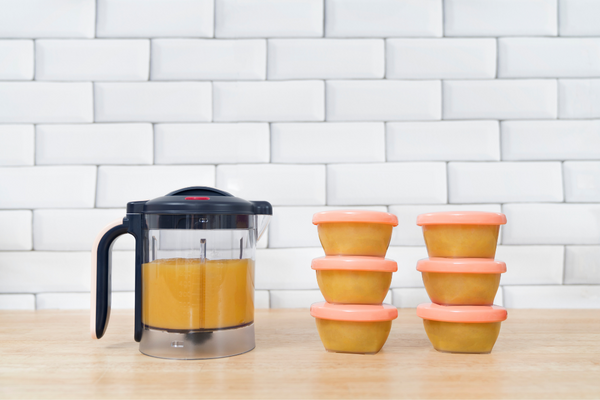 Flavours and nutrients preserved.
Its 3 separate steamer baskets guarantee food is cooked to a turn, with all its flavours and nutrients preserved. You can easily adjust the texture of your foods depending on your baby's age using the 3 blending speeds along with the cooking water vessel.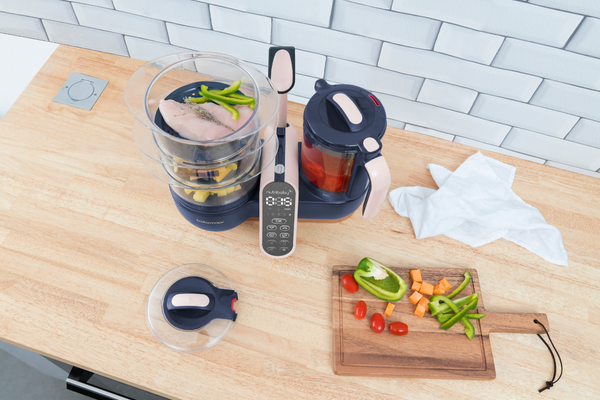 Works amazingly
Love this machine, it works beautifully. I love being able to steam multiple items and blend at the same time. I have been using it for almost 2 months now and love it just as much as when I got it. Last night we steamed kale, pears, and apple at the same time all while blending spaghetti squash. I love that we can use the left over juice from steaming in the blender as well. I will continue using this as she gets older for even healthy smoothies and blended veggie drinks for her. It is easy to clean, all but the bases are dishwasher safe. The option to thaw out baby food works well, as well as sterilizing bottles or pacifiers. This is a must if you want to make homemade food for baby, all for just being able to attend to your children while it cooks.
Good quality baby food maker
I bought the XL version of this after doing a lot of research on which baby food maker was the best. I still stand by this purchase, but the blender only allows you to run it for like 5 seconds at a time, which is why I give it 4 stars instead of 5. Other than that, I love the steamer, easy to use settings, and it's really pretty- which doesn't matter too much but it doesn't look bad sitting on the counter. The price was fairly high, but I'm a firm believer that you get what you pay for. I personally would opt for the XL version over the regular version but that's just so I can make big batches and save on time.
Excellent Product
If you're a new mama, or dada, and store bought baby food isn't to your liking, you have got to buy this. It was the best purchase we've made for our baby, now toddler. It was incredibly easy to use, super easy to clean, came with neat recipes, and so much more. It really is an all-in one product. To help our baby transition into baby food, I knew I didn't want to buy store bought, and I was determined to make it. I started out by using a steamer, and then dumping the steamed food into our Ninja. It was not a fast process, and I dirtied a lot of kitchen items in the meantime. When my husband found this, it made our lives so much simpler. You can steam multiple foods at once, and while the steamer is going, you can be blending up the food on the side. The blender is incredible. Super strong and fast. The only glitch with this product is that I believe it's a French based company. So while the instructions are in English, we found them to be a bit hard to follow. We eventually did understand and got the hang of it, but it took a few times. Lastly, after about 8 months, our blender went out. A little plastic piece on the bottom where it connected to the base gave way. For French citizens, you can get a replacement. But for US citizens, you cannot. So we would have had to buy a whole new machine. That was the biggest downside. We could've been a little rough with it since it's plastic; we aren't sure. It held up for a long time. We considered it a timely loss though since our baby had become a toddler and was working towards eating solids. Other than that though, it worked perfectly. Dishwasher safe too. There is also a BabyMoov app you can download with more tips and recipes. It's a great product. Just maybe needs to be constructed to be a little sturdier. Overall a great purchase for our family.
All in one
I can cook everything for my baby! The design's nice and the quality is also good.
Good Product
Love how easy it is to clean. Efficient at pureeing food as well.