Description

Technical features

Outer fabric: 95% cotton, 5% elastane
Filling: 100% PS microbeads
Washable at 40° to guarantee long-lasting colours
Can be washed at 60° 
Mum&b Maternity Pillow offers the best support for mum-to-be
With an ergonomic peanut shape and soft micro-bead filling. It can also be used as a nursing pillow to support baby during breast and bottle feeding.
Use as a pregnancy pillow: Get comfy by using the Mum&b pillow to support your head and neck area, relieve your back while lying or seated, support the bump while lying on your side or raise your legs for better blood flow.
Use as a nursing pillow: Support baby's body on the pillow, perfectly suited to all nursing positions for breast and bottle feeding. Mum&b makes the experience more comfortable and relaxing for both Mum and baby, by protecting against harder surfaces like chairs. Easy to wash - perfect for any spillages.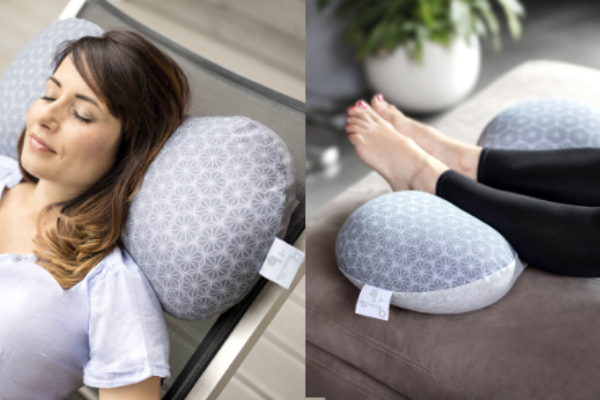 TOP TIP
In addition to the Mum&b Maternity Pillow, use the Dream Belt pregnancy sleeping aid (sold separately) for maximum comfort and support! The belt supports mums-to-be's bump during sleep, with memory foam and stretchy fabrics to mould around baby's changing shape. Also available as Dream Belt Fresh!
Lifetime warranty
Babymoov is committed to offering high quality and safe products, all certified by independent labs. To show our dedication to quality, we provide a lifetime warranty on all our products.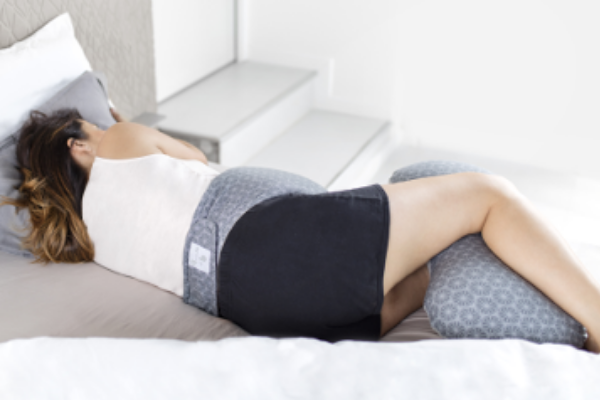 My favorite pregnancy pillow thus far!
I have gone through so many types of pillows to get comfortable early on during pregnancy. I refuse to buy the gigantic c or u shaped pillows.Tried a regular body pillow - nope. Knee contour pillow - nope again. I have a wedge pillow that's ok & I kept it, but my least favorite.The perfect combo I found is the babymoov belt paired with two of these. I started out with one for between my knees & ankles. I love that it can support both at the same time!!! However I realized my torso was twisting in my sleep & tweaking my back. So I got one to hold at night & it's perfect. Sometimes I use the second one to lay at an angle instead of my wedge pillow. I prefer this one by far!I will continue to use after pregnancy for hip pain, wish I would I've found this a long time ago!!!My only complaint the HUGE GIGANTIC TAG!!! I initially thought my first one was missing a zipper pull, but was advised by the company this was intentional which makes sense after using it. I wouldn't want a cold zipper pull against my leg at night. Customer service through the manufacturer was also SUPER fast to respond to my inquiry.But WHY in the world would you omit a zipper pull & then decide to add a gigantic tag that would either tickle your leg or be in your face all night. However I'm afraid to cut it off to be scratchy so haven't figured out a good resolve. Have thought about trying to remove & resew on my own, but don't want to mess up the jersey fabric.
Perfect for cosleeping 👍
I bought this to use as a pillow for myself. My daughter has coslept with us since 2 months old (She was super colicky for the first 4 months 😵) and is now 18 months. I was terrified that I would smother her with a regular pillow when she was wee little so this fits the bill and has been used every day!
Love it
I got this around 20 weeks into pregnancy (currently at 38 weeks) and it's been very helpful in keeping my belly & back supported. What I love most about it is it stays put no matter how much I toss and turn throughout the night. I tried the "C" shaped pillow but it took up so much bed space and I overheated. Highly recommend this pillow!!
Perfect little pregnancy pillow
Compact pregnancy pillow. Great for just lifting your knee and easing pain on your hips. It was exactly what I needed!
Very efficient and effective
Holy cow!! This pillow is awesome! Love the bead support and shape of pillow.